Consider the following scenario: a nice summer evening with the sun sinking on the horizon, a soft breeze rustling the leaves of neighboring trees, and the irresistible perfume of a magnificent meal being prepared.
Imagine doing all this while sitting at the ideal outdoor dining set, where comfort, beauty, and practicality are harmoniously integrated.
Designing the ultimate outdoor dining set may appear to be a daunting undertaking, but don't worry! This tutorial will walk you through the seven crucial steps to creating your outdoor dining paradise.
Whether you have a large patio, a cozy balcony, or a lush garden, these steps will assist you in creating a dining area that will serve as the focal point of your outdoor living space.
1 Define Your Space and Purpose
Before you begin designing your outdoor dining sets, you must determine the space where you intend to install them and comprehend their purpose. Consider the size of your outside space, the amount of sunlight available, and how you intend to utilize the dining set.
Are you seeking a cozy area for your morning coffee rituals, an intimate setting for romantic evenings, or a massive setup for entertaining gatherings? Understanding your space and purpose will lay the groundwork for all future design decisions.
2 Embrace Your Style
Like your indoor furniture, your outdoor dining set should represent your own taste. There are numerous design aesthetics, ranging from rustic charm to futuristic minimalism.
Consider your outdoor space's current aspects, such as landscaping, architecture, and color scheme, to ensure your dining set complements and enhances the entire mood. Allow your style to drive your decisions, whether you prefer clean lines and metallic finishes or natural wood and earthy tones.
3. Comfort is Key
An uncomfortable outdoor eating set is unlikely to be used. When building your ideal dining retreat, make comfort a primary priority. Choose chairs with ergonomic designs and plenty of cushioning.
Test the sitting to verify it provides adequate support and comfort. Similarly, invest in a dining table that is at a comfortable height and has enough space to accommodate dishes and beverages. The more comfortable your dining set is, the more time you and your guests will want to spend enjoying it.
4. Weather-Resistant Materials
Mother Nature can be unexpected, so choosing weather-resistant materials that can withstand the elements is critical. Consider using teak, aluminum, stainless steel, or synthetic wicker outdoor dining sets.
These materials are durable and can handle rain, heat, and occasional winter weather without significant wear and tear. Additionally, opt for fade-resistant and water-resistant fabrics for chair cushions to keep them looking fresh and vibrant for longer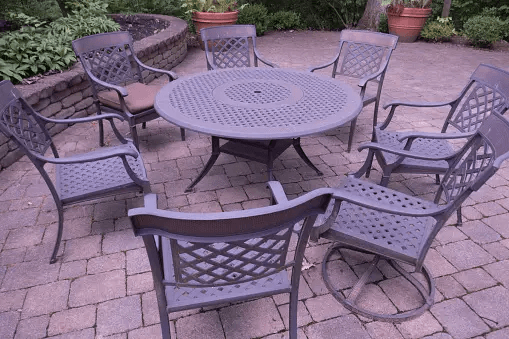 5. Flexibility and Versatility
Your outdoor dining set should be versatile enough to accommodate a variety of events and groups. Look for ideas that are adaptable and versatile. Consider extensible dining tables, which accommodate extra people at celebrations but may also be scaled down for more personal meals.
Folding chairs are also fantastic space-saving solutions, as they can be conveniently stored when not in use. Your dining set's adaptability will make it a functional and practical addition to your outdoor environment.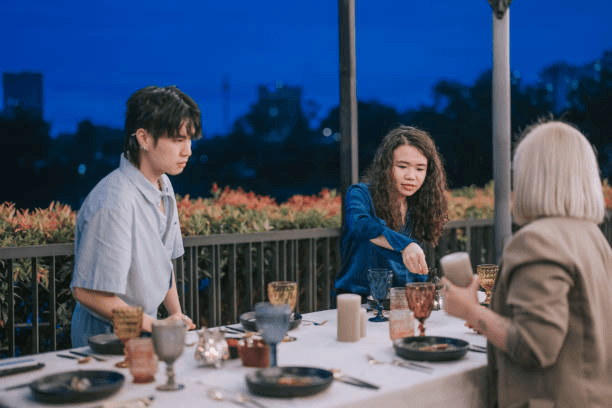 6. Lighting and Ambiance
You may create a compelling environment surrounding your outdoor dining set with carefully selected lighting accessories. Lighting can transform an ordinary eating experience into something unique.
Consider string lights, lanterns, or even built-in LED lighting on the table for an enticing touch. During evening parties, incorporate flameless candles for a warm, inviting glow. Lighting sets the tone and makes your outdoor eating area feel cozy and inviting.
7. Greenery and Personal Touches
Finally, add some foliage and personality to your outdoor dining set. To bring nature closer to your dining experience, surround the area with potted plants, flowers, or a vertical garden.
To inject your personality into the space, hang some paintings or decorative things on nearby walls. Personalization will make your outdoor dining set yours and create a pleasant environment for you and your visitors.
Top Tips to Consider When Choosing the Perfect Outdoor Dining Set

Of course, when choosing outdoor dining sets, it's essential to consider a few factors:
Contemplate the style of your home and garden and choose something that matches the area you intend to place the dining set in. For example, if you have an extremely traditional home, opt for traditional designs, and similarly, if you have a modern home, opt for contemporary styles.
Consider the space you must work with and only choose designs that will be functional in this space.
Think about the area you live in and what the average climate entails. For example, if you reside in a location frequented by rain and wind, you must opt for weather-resistant furniture, as opposed to wicker, which can be hard to maintain.
Contemplate your budget. Outdoor dining sets range from affordable to extremely expensive; before you start looking, ensure you have a budget in mind.
Conclusion
Creating an engaging and inviting space requires a journey that combines functionality, comfort, and style. Following these seven crucial steps, you can change your outside space into a beautiful eating sanctuary.
Define your area and purpose, embrace your style, prioritize comfort, choose weather-resistant materials, ensure flexibility and versatility, create the ideal mood with lighting, and add personal touches to create an unforgettable outdoor eating experience.
With a well-designed outdoor dining set, you'll be enticed to spend more time outside, savoring meals, hosting parties, and making treasured memories with friends and family. So, go ahead and start this creative journey, and allow your creativity and these practical techniques to guide you to the correct result.